This is a brand new course. First offering will be held at Sweetwater Kayaks in Jan. 2018
"So you'd like to be an ACA Kayak Instructor"
Instructor "QuickStart" Course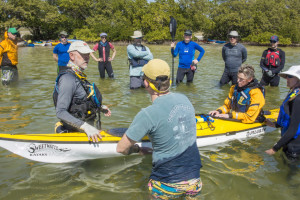 Call us for details 843 817 3138 www.riverwindkayak.com
Many people have asked if they have what it takes to be an ACA kayak instructor: paddling skills, sport knowledge, people skills, etc. To address these questions, we have created this course. See the below description:
Tom Nickels (see coach bios for coaching qualifications) will present his take on what it takes to be an effective paddling instructor.  In a staged teaching scenario with the class, he will model some of his ideas for coaching students to achieve success, and have fun at the same time. After discussion, the entire class will get into the instruction scene by doing small coaching exercises with practice students.  This class is designed to be very interactive, with the opportunity for all students to learn from each other as well as from Tom. The course ends with a personalized skills de-brief based on S.C.A.R. Course length: 3-3 ½ hours.
A successful course outcome is summarized by S.C.A.R.
S.   Skills, paddling skills   1 Hour
C.   Coaching techniques   ½ Hour
A.   Assessment techniques  ½ Hour
R.   Rescues and Risk management 1 Hour
                                                                                                  

Price: $65.00