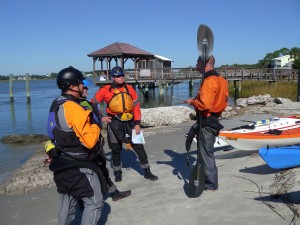 3 Star Sea Assessment
Pics and Vids of recent assessment in Ocean City , MD  8/14
Safety
Theory
Skills
Bow rescue
T-rescue
Self-rescue
Eskimo paddle rescue
Scoop rescue
Eskimo roll
contact tows
tow-line use
Safety equipment
Weather
Navigation
Tides and currents
Planning a multi-day trip
First aid for paddlers
Risk management
Landing and launching in rough seas
Advanced edging
Forward stroke
Sweep strokes
Support strokes
Dynamic turning strokes
Paddling in wind, waves and current
Surf launch and landing
This course is for paddlers with well-practiced fundamental skills looking to refine their paddling and rescue techniques. Sea kayaks, camping gear, paddling tops and wetsuits are provided as required.
Is this BCU 3- star course right for you?
If you just graduated from BCU 1 star, this course is not for you (yet).  You'll have practiced your skills and rescues and be comfortable and competent with them in waves up to 20 cm. You'll have done at least three separate day trips covering at least 15 km each. You'll have been out once in bumpy water and want to learn more. You'll want to take your skill set from good to strong-intermediate. You'll have your roll or be close to getting it. You'll have also spent at least three hours exploring other paddling disciplines such as SUP, Canoe, WW kayak, etc.
To BCU Certify or to not BCU/ Certify? That is the Question!
Our objective is to provide you with skills required to safely and effectively plan and undertake overnight sea kayak trips in moderately exposed, open water conditions. Those wishing to attain certification will be assessed based on their planning, paddling and rescue skills in the context of an overnight sea kayak journey in appropriate conditions.  You will be assessed separately for each course based on the criteria for each course. See detailed course descriptions for more detail.
If certification is not important to you, great. Rest assured, you'll be getting top notch instruction from qualified instructors who love sharing their passion for paddling with you.                                                                                     Tom with Gordon Brown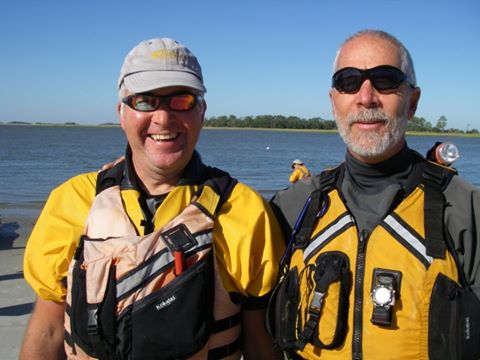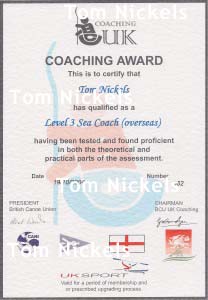 4 Star Sea Leader Trainer Notes