ACA & BCU Certification/Assessment Programs

The American Canoe Association (ACA) offers instructor certification courses levels 1 through levels 5. These instructor certification courses represent sets of skills, safety procedures and other materials deemed appropriate for the particular coaching environments.
To Learn About Our ACA Instructor Certification Program Click Here.

British Canoe Union (BCU) training and assessments are for highly motivated learners with open minds and a sense of discovery, who want to understand and enjoy kayaking to its fullest potential. We highly recommend that you take the appropriate training before signing up for an assessment. Please contact us to discuss your skill level and appropriate entry point into the BCU system.
To Learn About Our BCU Training and Assessment Program Click Here.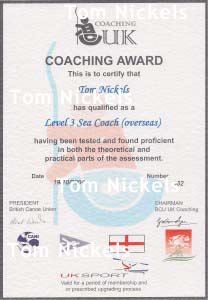 Tom Nickels Certifications
ACA Level 4 Open Water Instructor Trainer
BCU Coach Level 3, 4 Star Sea
Core Coaching Principles